Achieving Retirement Clarity™
Retirement Income Survival Kit™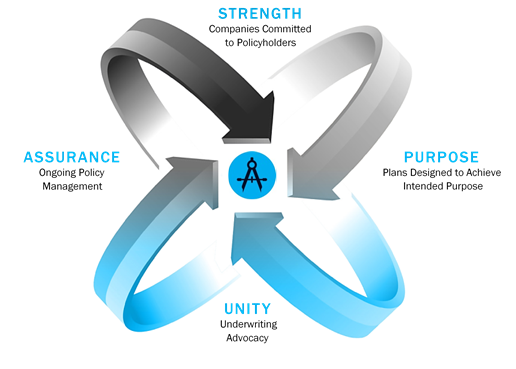 Life Assurance 360™ is a goals-based process for designing, implementing, and managing life insurance. The process educates individuals about the trade-offs of life insurance throughout the case design process, provides private underwriting services, and creates a plan for ongoing management.
For thousands of years, the architectural maxim has been that all structural designs should strive to possess three essential elements: strength, purpose, and unity. We believe that life insurance, more so than perhaps any other financial instrument, should also be designed to possess those three elements and managed over time in order to continue serving its intended purpose. That is why we developed Life Assurance 360™, a unique, client-centered approach to designing, implementing, and managing life insurance that we refer to as life insurance architecture.
In designing a life insurance plan, we address the need for strength by utilizing financially sound carriers that are committed to remaining in the life insurance industry and serving policyholders for years to come. We customize plans that are both purposeful in design and unified with the client's medical history in order to present the case to the carrier(s) in the most favorable light possible. Once a plan is in place, we set up systems for ongoing policy management to assure that the plan stays on track.
We believe the outcome that is produced for clients when all four of these elements are addressed together is better than the result when each are addressed in isolation. As Aristotle said, "the whole is greater than the sum of its parts", which is why we have chosen to take a comprehensive, 360º approach to life insurance.